Truth about Marketing, Copy Chief, Episode 56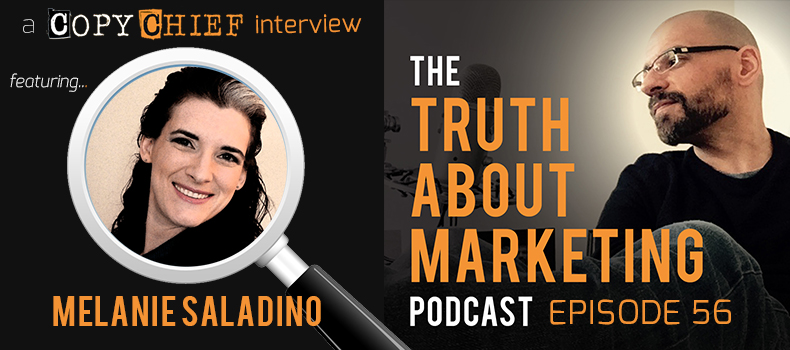 1:35: The copywriting cardinal rule for all marketers (and why failing to heed it is costing you a big ol' pile of money).
3:05: How Melanie discovered an obscure book that helped her build a "no fail" system for capturing the hearts and minds of only the perfect customers.
6:00: What thousands of years of research (from the world's most brilliant minds) teaches us about understanding your ideal customer better than their bartender or therapist.
7:10: Melanie pulls back the curtain to reveal her secret psych guide for copywriters. (Once you understand these 9 simple customer profiles, you'll be able to sell to anyone — anytime!)
9:40: Kevin reads a haunting love letter from a soldier fighting on the frontlines of WWI, asking his sweetheart to marry him. (This is the power of truly compelling copy)
13:10: How you your brain is murdering your sales without you even realizing it.
20:00: Does Copy Chief have an identity crisis? Melanie surprises Kevin with why he may have picked the wrong market!
21:15: Melanie shares two surprising insights on the differences in men's and women's psychology. (Whatever you think the answer is, you're wrong … and Kevin shares the story of a car salesman who surprisingly nailed this concept on the first try.)
26:30: Are you teaching valuable insights to your prospects? Or talking down to them? Why you need to stop being a dinosaur and catch up with the times.
28:30: How to make your customers relax and trust you … so they're excited to become your newest happy customer.
Show bullets written by Carolynn Ananian. You can tweet her up at @carolynnanian
Copy Chief Radio: How to Fast Track Your Freelance Career


Copy Chief: My Favorite Place to Hang Out